Bird Paintings By Skye Elizabeth Tranter – Bird Artist
Bird Paintings By Skye Elizabeth Tranter
Skye Elizabeth Tranter is an upcoming Artist who specializes in painting birds and parrots. While she has been practicing and selling her artwork for over 25 years, it wasn't until the last few years that she really settled into her niche as a bird-artist. Skye has sold her Oil Paintings throughout Australia and overseas and this year she made finalist in Percival Portrait Prize, Townsville, where she painted a self-portrait starring some of her very own feather-babies. Teaching Secondary High School Visual Arts in Townsville, Skye's personal Arts Practice is a constant source of inspiration to her students.
Not only does Skye love painting birds, but she is also known in her workplace as a "Crazy Parrot Lady", owning a modest flock (Including Ivy the Alexandrine and George the Blue & Gold Macaw). She shows her parrots on her Art and Parrot YouTube channel where she show cases her training and care of her birds, as well as the process videos of her Artwork.
In the past year, viewers of her channel have requested more tutorials on how she paints her birds, and Skye hasn't been shy in delivering. Tutorials on how to paint feathers, how to structure the pre-drawing and many more all feature on her channel as well in the tutorial playlist.
While other animals and pet portraits are also something Skye paints, her love has always gone back to birds. "I used to paint and draw birds as a child, and recently, my Mother unearthed these old drawings from when I was 8 and 13 and posted them as comparisons to my current work." – Skye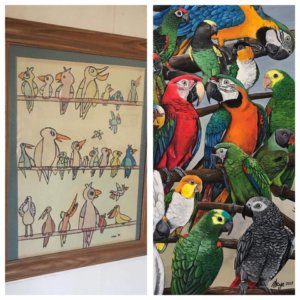 How Can I Purchase Skye Elizabeth Tranter's Work?
Skye's colourful renditions of her birds are both fun and whimsical and capture the personality and cheekiness of each little character from the little English Robin to the robust colours of the Macaw. Her work is available for sale in print through Redbubble and Teespring, and originals can be commissioned by negotiation.
Teespring Shop: https://teespring.com/stores/skye-elizabeth-parrot-designs
RedBubble: https://www.redbubble.com/people/skyeelizabeth
If you would like to see more of her work and follow her, you can find Skye on the following Social Media platforms.
Facebook Page: https://www.facebook.com/SkyeElizabethArtist/
YouTube: https://www.youtube.com/SkyeElizabethArtist
Instagram: https://www.instagram.com/skyeelizabethartist/
Website: www.SkyeElizabeth.com
Check out this video of Skye Elizabeth's work!
Check out more bird images and download them for free!
More On Amazon
Last updated on May 31, 2023 at 1:46 pm - Image source: Amazon Affiliate Program. All statements without guarantee.
---