Pros And Cons Of Cheap Bird baths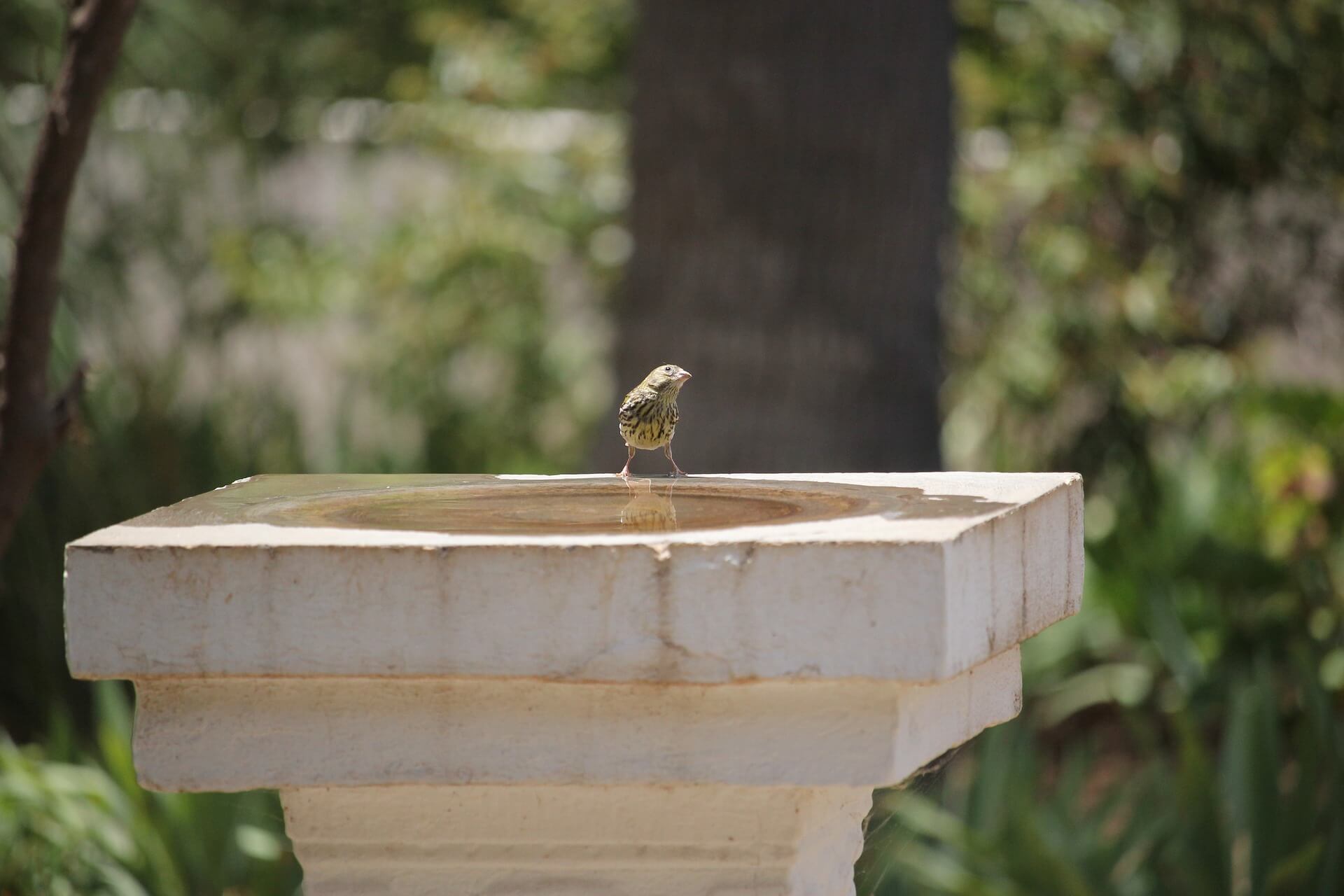 The Pros and Cons of Cheap Bird baths
Providing a place for water and a quick bath, bird lovers have been using bird baths for centuries to closely observe birds. There is  an incredible selection available online and in brick and mortar stores. That's why it can be challenging to find a model that works for you. With that in mind, let's take a brief look at the pros and cons of purchasing cheap bird baths.
The PROS Of A Cheap Bird Bath:
Bird baths are nothing new. They've had a place in history for centuries. They have also appeared in places as diverse as gravestone iconography and mountaintop retreats. A cheap bird bath makes it far easier to have a place for birds when compared to traditional and more expensive options.
1. CHEAP BIRD BATHS INEXPENSIVE
The best thing about a cheap bird bath is that it is inexpensive. Mostly made of plastics, they cost a fraction compared of other materials like stone or concrete. You can find cheap bird baths at all gardening and home repair stores, as well as many general big box stores as well. In all cases, the bird baths you find will be inexpensive and quite affordable.
2. THEY ARE EASY TO MOVE AROUND
One big problem with bird baths is that they are incredibly hard to move around. Made of heavy materials, the majority of concrete and stone birdbaths require assistance if you want to place them somewhere else in your yard or property. In contrast, cheap bird baths are often light weight and easy to move, and can be transported without thought given to the weight. This makes them far easier to move than the alternatives.
3. YOU CAN FIND THEM ANYWHERE
A cheap bird bath is the most common type of bird bath out there and can be purchased pretty much anywhere that home and gardening supplies are sold. They are popular across the United States, and there is enough of a continued interest to keep people coming back for more. In addition, the demand creates enough competition in the market to keep costs down for you the consumer.
4. THEY COME IN A VARIETY OF SHAPES, SIZES, COLORS AND MATERIALS
A cheap bird bath is typically made of plastic, and come in an incredible range of colors, shapes, and sizes. Easily molded into class and contemporary designs, spray coloring is added at the end to create the perfect accent piece for your garden. With so much selection in retail outlets and online, you will be spoiled for choice.
5. CHEAP BIRD BATHS CAN MAKE A GREAT HOUSEWARMING PRESENT
A bird bath is the perfect housewarming present as many people just getting a house don't tend to prioritize it and you can get them inexpensively. Whether or not they use it, the gesture helps them to think about bird baths and consider whether or not it is something they may want to continue investing in later.
The CONS of Cheap Bird baths
A cheap bird bath has many advantages. It is in part why they are ubiquitous across the American landscape. However, they are not without their disadvantages. Made primarily out of plastic, cheap bird baths require a few considerations prior to purchase.
1. CHEAP BIRD BATHS CAN BREAK EASILY
Made out of plastic, a cheap bird bath is not always the best choice. Plastic is prone to warping, chipping, and splintering of the plastic material during use. They also typically don't last as long, breaking apart long before their more expensive alternatives. In addition, some cheap bird baths can become damaged in transport as they are subject to conditions they were not designed to withstand.
2. THEY MAY LOOK CHEAP
While some cheap bird baths look great, others look their worth and are not as aesthetically pleasing as more expensive models. Consider how your garden or property will look with a cheap bird bath and possibly reconsider. In addition to looking cheap, the material may potentially be harmful to the birds. Depending on the plastic used, parts of the plastic can separate into the water, creating a potentially toxic pool for your birds. Be sure to change the water frequently.
This is an example of a cheap resin bird bath available on Amazon. Although it is made of resin, it looks like engraved stone, but is light weight, easy to move and easy to clean.
3. A CHEAP MODEL MAY NOT HOLD WEIGHT WELL
More expensive birdbaths are typically made of heavier materials that work incredibly well under pressure. Concrete, stone, brick, and similar materials do an incredibly job at holding the weight of the water and larger birds without breaking. A cheap bird baths may not be able to hold the additional weight and may break sooner if used with regularity. In addition, if the water freezes over, it stands a better chance of shattering the top of the bird bath, making it useless once spring arrives.
4. CHEAP BIRD BATHS MAY REQUIRE ADDITIONAL CLEANING
A cheap bird bath may stain easier than more expensive alternatives. Keeping a bird bath clean will require special cleaners that you will have to make sure do not injure or harm the birds. Some stains may be impossible to remove from cheap bird baths. Instead, you should consider getting a darker colored bird bath. Doing so will help you hide the stains.
5. A CHEAP BIRD BATH MAY NOT WORK WITH DEICER
A deicer can be placed in a bird bath to keep the water from icing over during the colder months of the year. Depending on the make and model of the deicer, it may become hot when activated. If you place these deicers in cheap bird baths, then the material of the bird bath can become warped. Those looking for year round bird baths in colder climates may want to consider not getting cheap bird baths.
Conclusion
Cheap bird baths provide many benefits that no other type of bird bath can. More than just cost, cheap bird baths are also easy to carry, available everywhere, and can act as gifts. On the other hand, they can be frail, break apart easily, and present special challenges in cleaning and bird health.
In the end, the type of bird bath you get will depend on your need, on what is available, and on the aesthetic you are attempting to create. Either way, you can rest assured that the birds will be happy with whatever you buy.
Last updated on October 4, 2023 at 4:58 pm - Image source: Amazon Affiliate Program. All statements without guarantee.
---