Unique Birdbaths That You Can Buy Or Build Yourself
Unique Birdbaths & Accessories
Birdbaths are one of the most effective ways to attract birds and keep them coming back to your yard. On this page you will find unique birdbaths for sale on Amazon, as well as instructions on how to make your own birdbaths. Buy birdbath accessories such as bird bath pumps, heaters and water wigglers to keep birds coming back again and again!
So What's Your Best Option When Looking For Unique Birdbaths? The Ones You Will Continue To Enjoy!
Unique birdbaths are beautiful, but having a bird bath means more than just putting it in the yard and looking at it everyday. Birdbaths must be kept clean and filled with fresh water. Whether you prefer hanging birdbaths, birdbaths with pedestals or mounted birdbaths, wild bird will continue to flock to your refuge if you choose your birdbath carefully. Find the best unique birdbaths to improve your garden with the presence of your feathered friends!
Regularly adding fresh water to your bird bath is the single most important element when trying to attract birds. Flowing water is even more effective. Our unique birdbaths come in pedestal and hanging styles, and are made from a wide variety of materials.
Keep Water Moving To Keep It Free From Mosquitoes
Moving water transforms your simple bird bath into an oasis! Bird bath accessories such as drippers, misters and water wigglers increase both the number of bird species in your garden and their numbers. Birdbath accessories, such as pumps, also keep the water moving, preventing mosquitoes and other insects from breeding in your bird bath. We recommend hanging birdbaths on the patio or porch for small spaces. Fresh water is the most important element in your outdoor habitat.  It helps birds thrive and creates hours of bird watching enjoyment for your and your family.
Unique Birdbaths for Sale on Amazon
The Swirly Copper Bird Bath
This swirly birdbath is one of the most unique we've found on Amazon. It is made of copper, and one of the swirls forms the bird bath basin, while the other provides shelter for the bathing birds. Due to the fact that copper is a bio-static metal, algae, fungi and other plants will not stick to or grow on it, making this unique bird bath very easy to clean. In fact, many birdbath owners place copper objects in their birdbaths because of the metal's bio-static properties. Copper is a lighter metal, so be sure to place this bird bath in a safe location to avoid dents and other types of damage.
Click on the picture below to find out more about this bird bath on Amazon.
Tiered Resin Outdoor Bird Bath
Experienced bird watchers know birds are attracted to the sound and sight of flowing water. With its four distinct tiers, you will attract more birds than ever before to your yard! You will even attract birds at night with this bird bath, which comes with submersible halogen bulbs that light up the lower tier. This unique bird bath comes with a pump and transformer as well as a durable power cord suitable for outdoor use.
Click on the picture below for more details about this bird bath on Amazon.
Unique Tiered Mosaic Terra Cotta Birdbath
This unique bird bath has everything you need to attract birds to your back yard or landscape! The flowing water will be a sure hit with the birds in your neighborhood. The terra cotta design with blend perfectly into any natural landscape. The texture of terra cotta will make it easy for birds to land and perch on this bird birth and it will even help prevent birds from drowning. It comes with a low voltage solar-powered pump, so you will never have to pay for electricity. This is the unique bird bath you've been looking for!
Click on the picture below to find out more about this bird bath on Amazon.
Unique Lighted Resin Bird Bath
These unique birdbath will add warmth and atmosphere to your backyard or garden. The material is resin and the basin is glazed emerald green. LED lights emit a warm glow from the center of the birdbath and the lights are battery powered, so no hassles with electrical cords. This unique bird bath is specially textured to make it easy and safe for birds to hold on to. That means less chance of accidental drowning! This unique birdbath also has a built-in timer, so you can set this bird bath to light up your yard at night!
Click on the picture to find out more about this unique bird bath on Amazon.
Carved Bear and Honey Bee Bird Bath
We love this practical and whimsical carved bear and honey bee bird bath! It is made of resin to look like carved wood. Resin is one of the materials we recommend for year-round outdoor use. It won't crack or chip in the cold weather, like cement or concrete. Also ,is very easy to clean. Resin is not a porous material like cement or concrete, so algae and pathogens won't hide in any pores.
This adorable bird bath is almost 2 feet tall. The Amazon product description says no maintenance, but as always, it is important to drain your bird bath regularly and add fresh, clean water. It is also a good idea to hose it down about once a month or clean it with a non-toxic solution. Apple cider vinegar or a solution of 1 part bleach 9 parts water work well. Be sure to thoroughly rinse and dry the bird bath when cleaning.
Butterfly Dragonfly Bird Bath Review
This bird bath is another that we can highly recommend.  It is made of aluminium and durable cast iron, so it will not rust. In addition, it is both crack and chip resistant and has a hardened powder coating to make it last many years. This bird bath weighs 26 pounds and is 16 x 16 x 26 inches, so it will not blow over in windy weather. If you would like to keep this bird bath outside in the winter, we recommend adding a bird bath heater. At about $143, this bird bath is a great value. You won't need to throw it away after a year!
Make Unique Birdbaths With These Do It Yourself Projects
Of course, buying a bird bath is not the only way to add to your yard or landscape. Building your own unique birdbaths can also be a great option. If you have been looking for birdbaths for sale but have not found the perfect one for your yard, you may decide to make your own. By making your own bird bath, you can choose all your own materials and create a bird bath exactly to your own specifications. You will be sure that all the materials are safe, and that you will have a great bird bath that will attract a wide range of species to your yard. Here are 3 do it yourself projects that will help you create unique birdbaths for your own backyard.
Old Lamp Bird Bath
You can make a bird bath out of an old lamp by cutting the cord off the lamp and taking the lamp completely apart. Also remove  the lampshade and the mechanism that holds the light bulb. What you'll be left with is the base of the lamp with the metal rod that would hold the light bulb exposed.
Then, all you need to do is get creative with the type of basin or bowl you use. Remember that the ideal depth for a bird bath basin in 2 inches and that the basin should gradually slope towards the middle, where it will be at its deepest. Drill a hole in the middle of basin and mount the basin on top of the exposed rod and fasten it into place with some epoxy.
Full instructions on how to make unique birdbaths out of old lamps, as well as recommendations of tools and safety equipment to use for this project, can be found here.
Flower Bowl Bird Bath
This unique bird bath is very easy to make and clean and can be constructed very quickly. It consists of a flower-shaped basin resting on three wooden or metal rods tapped into the ground. The instructions recommend a basin that is no more than 3 inches deep, but a 2 inch deep basin is even better. The rods can be painted with an outdoor grade paint and basin simply rests on top of the 3 rods. You may place a rock in the center of the basin to provide some weight to keep the bath in place and to give the birds a place to perch.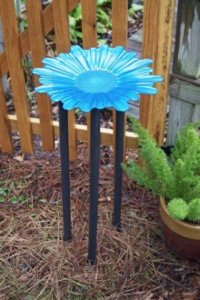 Full instructions on how to make this bird bath can be found here.
Birdbath Water Park
Birds and Blooms calls this one the Bird Bath Water Park, and it is one of the most unique birdbaths we've seen. It consists of several thick tree branches. Position the branches and fasten together with some screws or nails. Fasten plant holders to the branches themselves. You can then place a bowl on the plant holders and fill it with water. We recommend shallower bowls than are shown in the picture. You can make the entire project with very few, inexpensive supplies. When you finish, you will have a unique bird bath that nobody else your neighborhood will have.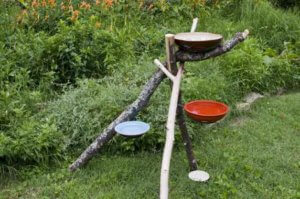 Old Chair Birdbath
Another idea for making unique birdbaths is to make one out of an old chair. This is a personal favorite, because the basin can be shallow, minimizing the risk of drowning birds. All you need to take is buy a shallow terracotta basin. Then, place it where the chair cushion used to be. Wire or metal chair frames work best because they are sturdy and will stand up in the elements. You can read more about this idea from daisymaebelle.com.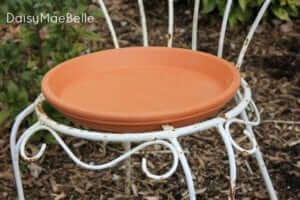 Be sure to check out this article to find out how to make unique mosaic birdbaths.
Oscar The Grouch Birdbath
I like to call this unique birdbath the Oscar The Grouch birdbath. This is because it consists of an old, overturned trash can with its lid resting on top. You should remove the handle from the top prior to resting it on the trash can. Make sure that the basin (in this case the trash can lid) is no more than 2″ deep. This will prevent possible drowning. You can then place stones, shells etc. in the water to give the birds an additional surface to hold on to.
Find out more about this unique birdbath here: https://www.hoselink.com.au/blog/8-diy-bird-baths/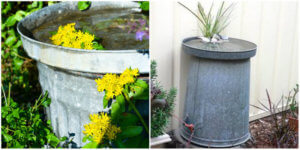 Old CD Birdbath
Here's another idea if you'd like to make your own unique birdbaths: make one out of old CDs. Cut some old CDs into pieces and glue them to your choice of basin. Apply grout in between the CDs to fill in the gaps. Then, clean out the excess grout until you only see white lines around the CD pieces. Full information on how to make unique birdbaths out of old CDs can be found at meandmydiy.com.
More On Amazon
Last updated on May 31, 2023 at 1:44 pm - Image source: Amazon Affiliate Program. All statements without guarantee.
---