DIY Chicken Coops
DIY Chicken Coops
DIY chicken coops are not difficult to make. However, you should always start with good planning, and gather as much information as possible about everything involved. Good preparation will make the construction of your chicken coop much easier. Therefore, we have assembled this guide to help you plan before you begin construction.
Basic Chicken Coop Components
No matter which style of chicken coop you choose to build, your structure will have a set of basic components common to all coops. These components will help keep your flock happy, healthy and productive.
The Frame
Usually, you can build the frame of your chicken coop with a few simple pieces of wood. 2"x 4"s are the most common size. Larger diy chicken coops will most likely require 4″x4″s in order to support the extra weight of the structure.
The Chicken Coop Walls And Roof
You can construct the floor, walls and roof of the structure using materials like sheet lumber, plywood or paneling. Be sure to add shingles and sheathing to ensure the structure is waterproof and durable. Use strong wire mesh for the walls and windows and to create a run attached to the main structure. This way, your chickens will be able to enjoy the outdoors, feed on things they would normally eat in the wild and benefit from the sun. Good wire mesh will also ensure that your chicken coop is well-ventilated. You may also wish to consider adding an automatic door so you won't have to worry about letting your chickens in and out of the coop.
The Floor
You see many coops with have no flooring at all. These coops allow chickens to graze and peck as they would in nature and do not hurt their feed. If you would like to add a permanent floor to your chicken coop, we recommend cement because is it easy to clean. Cement is also healthy for chickens because it provides less opportunity for pathogens to hide. With this type of floor, you should add a 3″ bed of wood shavings, chips or straw to absorb moisture from chicken droppings.
Nesting Boxes
Nesting boxes are simply square or rectangle structures that you can fill with straw. Hens will use these structures to lay and sit on their eggs. Placing the nesting boxes in warm, dark areas will make hens more likely to use them.
Perches
Use 4" x 4"s to make your chicken perches. Your chickens will use them to sleep at night, and they should be placed about 3 to 4-above the floor of your coop.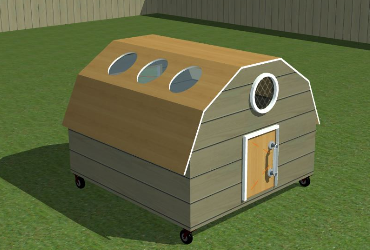 Food And Water In DIY Chicken Coops
A constant supply of fresh food and water is vital for maintaining a healthy, productive flock. Your chicken feed should include supplements such as maize, millet, and kelp, to maintain maximum health. It goes without saying that fresh, clean water will also help keep your flock healthy and productive.
Make sure each bird has easy access to the food and watering systems. Construct them a few feet above the chicken coop floor to avoid contamination.
You can make your own chicken feeder out of different types of materials, but wood is the most common. Construct the feeder like any other bird feeder and ensure the birds can access the food from all sides. Take appropriate measure to avoid mold and mildew from growing in food.
Use a simple tin can and a plate to make a chicken waterer. Punch a hole in the bottom of the can and set it on the plate to allow the slow release of water. Replace the can if you see rust or other contamination. For smaller flocks, you can use a clay flower pot filled with water.
DIY Chicken Coops – Conclusion
Now that you have learned which components are required for all chicken coops, you can go ahead and begin building, but don't do it alone! Make sure you get the best, most detailed plans possible so that you get it right the first time. Check out BuildingChickenCoopsGuide.com to get the best diy chicken coops plans available for a great price!

Last updated on October 4, 2023 at 5:13 pm - Image source: Amazon Affiliate Program. All statements without guarantee.
---